This page: TOP page > To clients seeking new products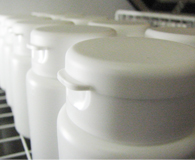 "What new products should we release in addition to our current product lineup?" "We are lacking the knowhow to enter the health food business for the first time."

If you feel this way, please come to us.

We will realize the successful development of your company's new products based on our experience-based marketing and proposal skills, something most original equipment makers do not have.


ORTIC and other original equipment manufacturers are definitely different, in that ORTIC not only develops products but also designs packages, produces sales-promotion items and holds lectures regarding products for on-site sellers.
We draw up product plans one by one, based on trends and developments in the present health food industry and the characteristics of each ingredient.

We will specify the blend quantity of each ingredient, the form of capsules, the design of packaging, and so on from the viewpoint of both our factory and experts. We will also quote prices based on these specifications.

If you would like to try to design a product, we will produce a prototype in small lots (not free of charge). The prototype can be used and checked by the personnel involved at your company.

We will manufacture your product based on the design specifications and the prototype produced. We produce products at one of the few factories in Japan that has obtained GMP and ISO certification.

We will propose product package designs that best match the product image, the trends of the health food industry and your target users.

We will thoroughly research distribution methods and target customers, and then propose the most effective sales-promotion items. We will also hold workshops about products for sales staff.

We ORTIC rigorously select natural ingredients that our representatives feel "are really good ingredients." These days, food safety attracts much attention, and our clients, who want to provide their customers with excellence, highly evaluate our OEM products.

We have a variety of content to help you become more familiar with ORTIC. Please take a look. We hope our thoughts will be conveyed to you. If you have any inquiries or questions, please feel free to ask us.