This page: TOP page > Corporate information

We hope to develop pioneering, added-value products to lead you to new developments and advancement. It was with this dream that we started ORTIC.

We hope to become the wings to growth for our clients. We offer services and products under our wing logo with this in mind.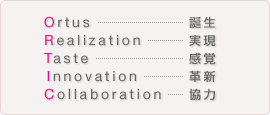 We pursue better products and services under these keywords, which form our company name.

ORTIC Co., Ltd.
11th floor of Fukuoka-Asahi-Kaikan Bldg, 2-8-41 Tenjin, Chuo-ku, Fukuoka-shi
Professor Takeshi Kurihara,
Tokyo Women's Medical University
Hiroyuki Maruyama,
Medical Journalist
March 6, 2006
10 million yen
Nishi-Nippon City Bank
Eighteenth Bank
4
OEM-based planning and the sale of health foods
Sankyo Co., Ltd.
3178-1 Denbou, Fuji-shi, Shizuoka Prefecture
Has ISO9001 certification, GMP, and ISO22000 certification.
ORTIC is enrolled in Fukuoka Prefecture's project "Kosodate Ouen Sengen (Declaration of Support of Childrearing)," which assists male and female workers in rearing their children. Based on this project, we are developing an environment in which our employees can exert their occupational abilities while nurturing and rearing their infants and children.