This page: Top page > Description of OEM products and ingredients

At ORTIC, we prioritize natural ingredients. Our representative rigorously selects excellent ingredients himself. At the present time, with food safety attracting attention, clients want to deliver excellent products to their customers. Such clients are well satisfied with our OEM products.

The OEM products you can outsource are listed below. Other ingredients can be included, so please do not hesitate to ask us.

Sankyo Co., Ltd., to which we outsource supplement production, has obtained GMP and ISO certification. Only products that meet very strict quality control standards are released.
With regard to black vinegar, we outsource ingredient production to a brewer who still respects traditional technology.

Consistent high quality. ORTIC will make your business successful in cooperation with our reliable business partners.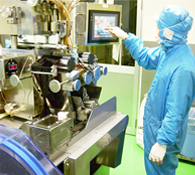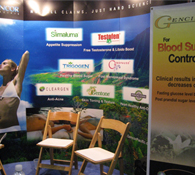 We handle ingredients and supplements that are distributed not only in Japan but also thosedistributed in the United States, which is a leader in organic supplements, and other countries. We glean the latestinformation about supplements at overseas exhibitions and through our own network.

We can deal with ingredients and items that are not well-known in Japan and have not been commercialized by competitors.
We can flexibly respond to hopes of cultivating a new market. Please consult with us.


| Photo of Ingredient | Product Name | Characteristics of Ingredient |
| --- | --- | --- |
| | Unrefined Brown-rice Black Vinegar Powder | Only organic brown rice (pure rice) grown in Kumamoto is used. The unrefined vinegar, which is naturally fermented using a traditional method and prolonged maturation, is transformed into powder without degrading its active ingredients. The unrefined vinegar powder produced at the brewery, which has a history of over three hundred years, contains plenty of natural essential amino acids. |
| | Plum Extract | Nanko plums grown in Kishu, Wakayama are used. This extract contains abundant citric acid and mumefural, which is produced when large green plums are boiled down. |
| | Oxidized CoQ10 | Coenzyme Q10 (CoQ10) exists in each of the almost sixty trillion cells in the body. The heart, liver and kidney contain a particular abundance of this substance. This is the most important coenzyme, and is indispensable in producing the cellular energy necessary for daily life. |
| | Reduced CoQ10 | Coenzyme Q10 functions inside the body in the reduced form. The conventional oxidized type needs to be reduced inside the body, but as a person gets older, the body losses the energy to reduce the oxidized type. The reduced type can be absorbed readily and smoothly and function inside the body. It is possible that it has the effect of retarding aging. |
| | Acai Berry | A palm plant that grows in the Amazon rainforest in Brazil. A fruit that has absorbed plentiful solar energy on harsh ground. A "miracle fruit" that contains plentiful nutrients such as essential fatty acids, including linolenic acid and oleic acid, amino acids, plant fiber, vitamins B, C and E, phosphorus, iron, calcium, zinc |
| | Collagen | It is said that of the protein that forms the body, about a third is collagen. Collagen forms the support base of almost all cells and cell anchors in the body, such as those of hair, skin, bones, nails, blood vessels and internal organs. This protein is necessary to activate living cells. |

Other adoptable ingredients are listed below. We can also flexibly deal with unlisted ingredients. For details, please contact us.
| | | |
| --- | --- | --- |
| Zinc | Agaricus | Astaxanthin |
| Acerola | Amino acid | Amla |
| Alliin | Allicin | Alpha lipoic acid |
| Aloe | Aloe vera | EPA |
| Isoflavone | Ginkgo leaf extract | Silky fowl |
| Turmeric | Plum extract | Eel bone |
| Echinacea | Perilla oil | Siberian ginseng |
| MSM | L-carnitine | Enzogenol |
| Oxykine | Octacosanol | Dried olive leaf extract |
| Ornithine | Psyllium | Fresh leaves of barley |
| Fermented barley extract | Omega fatty acid | Omega fatty acid |
| Oligosaccharide | | |
| | | |
| --- | --- | --- |
| Cacao extract | Oyster extract | Cassis polyphenol |
| Catechin | Inonotus obliquus | Capsaicin |
| Calcium | Nucleic acids | Zedoary (purple turmeric) |
| Garcinia cambogia | Kiwi peel | Xylitol |
| Chitosan | Sugarcane vinegar | Gymnema |
| Cat's claw | GABA | Guava |
| Citric acid | Wolfberry | Cranberry |
| Curcumin | Glutathione yeast | Green oats |
| Glucosamine | Creatine | Black sesame |
| Black vinegar | Black soybeans | Chromium |
| Chlorella | Sasa veitchii | Sasa veitchii leaf |
| Quercetin | Aromatic vinegar | Enzyme |
| Yeast | Ginseng | Soluble polymer chitosan |
| Coenzyme Q10 | Rice bran extract | Komekosanol |
| Collagen | Choline | Coleus forskohlii |
| Chondrotin | | |
| | | |
| --- | --- | --- |
| Psyllium | Salacia reticulata | Rum blossom |
| Shekwasha | Sea berry | Freshwater clam extract |
| Fermented fruit powder | Shimon potato | Simmondsia chinensis |
| Champignon | Phytosterol | Silk powder |
| Deep-sea shark extract | Squalene | Cucurbita maxima |
| Ceramide | Selenium | |
| | | |
| --- | --- | --- |
| Soy isoflavone | Soy peptide | Soy lecithin |
| Thioctic acid | Chaga | Oenothera tetraptera |
| Swallow's nest | Theanine | Devil's claw |
| Iron | DHA | Panax pseudoginseng |
| Acerola powder containing natural vitamin C | Caterpillar fungus | Tocotrienol |
| Dolomite | | |
| | | |
| --- | --- | --- |
| Niacin | Natto kinase | Bacillus natto |
| Bittern | Lactic acid bacteria | Garlic |
| Kelp root | Saw palmetto | |
| | | |
| --- | --- | --- |
| Fermented black garlic | Banaba | Cauliflower fungus |
| Papaya enzyme | Rose petal extract | Baker's yeast-derived β-glucan |
| Pantothenic acid | Hyaluronic acid | Collagen containing hyaluronic acid |
| Biotin | Beer yeast | Pycnogenol |
| Vitamins | Vinca minor | Bilberry |
| Vinca minor | Hoodia | Fish collagen |
| Pueraria mirifica | Fucoidan | Placenta |
| Blueberry | FloraGLOR | Protein |
| Propolis | Beta-carotene | Beta-glucan |
| Red koji | Phosphatidylserine | Policosanol |
| Polyphenol | | |
| | | |
| --- | --- | --- |
| Grifola frondosa | Maca | Magnesium |
| Multivitamins | Multiminerals | Mate |
| Tagetes extract | Mixed minerals | Milk peptide |
| Millet extract | Millet | Mumijo |
| Mekabu | Acer nikoense Maximowicz | Meshimakobu |
| Colostrum | Unrefined sake vinegar | |
| | | |
| --- | --- | --- |
| Yacon | Hericium Erinaceum | Spore bearing lactic acid bacteria |
| Organogermanium | Unrefined organic brown-rice black vinegar | Organic maca  |
| Yucca and quillai extracts | Folic acid | |
| | | |
| --- | --- | --- |
| Siraitia grosvenorii | Rasberries | Egg-yolk oil |
| Lycopene | Green tea extract | Rooibos |
| Rutin | Lutein | Lingzhi |
| Lecithin | Rose hips | Royal jelly |